Supporting artists/collectives by exhibiting at The Mill has been a core principle of the Foundation but also of Gabriel and Mary Rose Caruana, the founders of The Mill – Art, Culture and Crafts Centre. Since 2-17 the Foundation has supported emerging artists/collectives in various ways through curation, project development, funding and sponsor support, sales of artworks and internationalisation, a varied process that goes beyond the set-up of an artistic showcase. 
This support has organically grown into SPRING, a programme that conceptually ties in with the notion of creating a platform for the promotion of work by emerging artists/collectives. The SPRING programme is evolving to support emerging artists/collectives through different modalities.  We offer a yearly month-long solo exhibition to an emerging artist/artist collective and the development of collective exhibitions throughout the year.  This enables our artists to kickstart or further expose their work and artistic career giving them the space to investigate and intervene.
The Foundation has so far supported Maxine Attard, Enrique Tabone, Charlene Galea, and Daniel Borg in exhibiting their work through a solo exhibition at The Mill. The Foundation has also supported Noura Abdelhadfidh, Stephania Micallef, Stefan Spiteri, Ian Farrugia, Sheldon Saliba, Matthew Schembri, Martina Camilleri, Emma Fsadni, Sarah Portelli, Abigail Agius, Martina Spiteri, Rhea Micallef Gavin, Jamie Barbara, Samuel Ciantar, Noah Fabri, Katel Delia and Kamy Aquilina by codeveloping collective exhibitions at The Mill. The SPRING Artistic Programme is managed by Raffaella Zammit and curated by Elyse Tonna, both providing their experience to nurture emerging artists.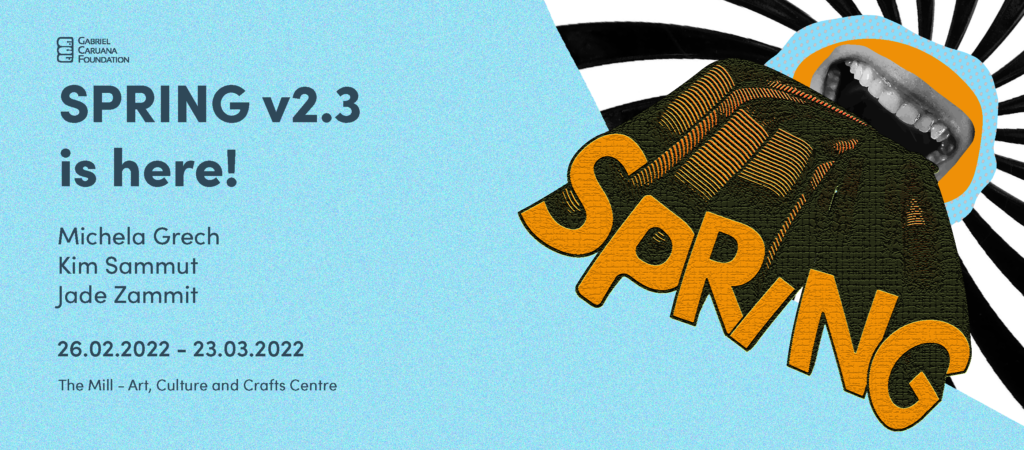 The next artists showing their works at The Mill are Michela Grech, Kim Sammut and Jade Zammit. They will exhibit their works during SPRING v2.3, which will launch on the 26th February 2022 at The Mill.