Supporting artists/collectives by exhibiting at The Mill has been a core principle of the Foundation but also of Gabriel and Mary Rose Caruana, the founders of The Mill – Art, Culture and Crafts Centre. The Foundation strives to support emerging artists/collectives in various ways through curation, project development, funding and sponsor support, sales of artworks and internationalisation. Since 2017, the Gabriel Caruana Foundation has supported emerging artists by dedicating its exhibition space for  solo and collective exhibitions at The Mill. The process is varied but generally goes beyond simply supporting the set-up of an artistic showcase.  This support has organically grown into SPRING, a programme that conceptually ties in with the notion of creating a platform for the promotion of work by emerging artists/collectives. The SPRING programme is evolving to support emerging artists/collectives through different modalities.  The SPRING programme is now two-pronged. We offer a yearly month-long solo exhibition to an emerging artist/artist collective. We are also offering a dedicated exhibition space for emerging artists/artist collectives throughout the year.  This enables them to kickstart or further expose their work and artistic career giving them the space to investigate and intervene. The Foundation has so far supported Maxine Attard, Enrique Tabone, Charlene Galea, and Daniel Borg in exhibiting their work through a solo exhibition at The Mill. The Foundation have also supported Noura Abdelhadfidh, Stephania Micallef, Stefan Spiteri, Ian Farrugia, Sheldon Saliba, Matthew Schembri, Martina Camilleri, Emma Fsadni and Sarah Portelli by supporting four collective exhibitions at The Mill.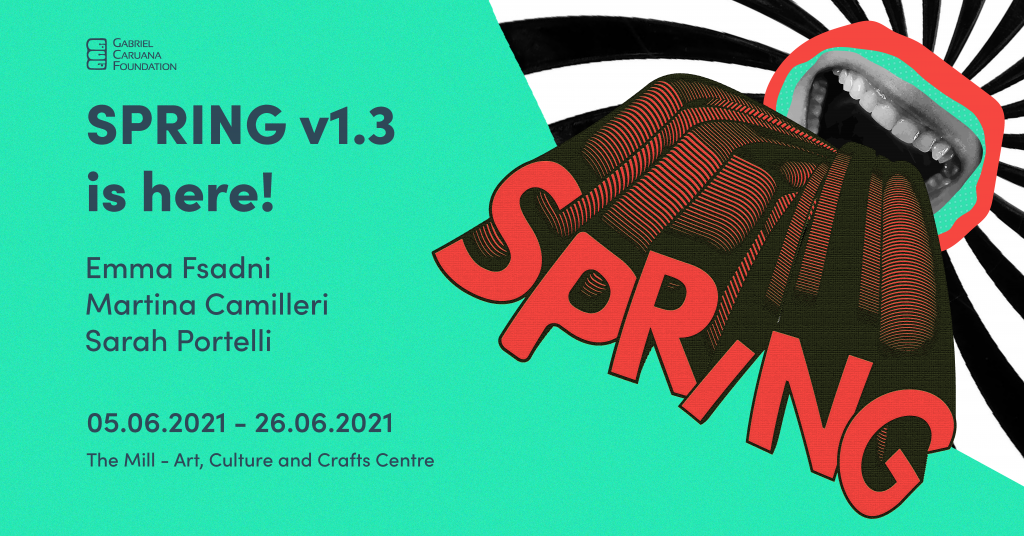 Our first open call (December 2020) has garnered an overwhelming number of submissions. Through a selection panel composed of seasoned artists, curators and art educators, 12 artists have been selected to form part of SPRING. Their work will be featured between January 2021 and September 2021. The next artists showing their works at The Mill are Martina Camilleri, Emma Fsadni and Sarah Portelli. They will exhibit their works during SPRING v1.3, which will launch on the 5th June 2021 at The Mill.
Martina Camilleri (b.1996) is not tied to a particular field, with her ethos manifested in visual art, sound, performance and writing. These tools are actively used in her various endeavours, with materiality and sensitivity to space and experience featuring prominently in her visual work. She holds a B.A. Honours Degree in Fine Arts and is currently reading for an M.A. in Social Practice Art and Critical Education at the University of Malta. She is active in various organisations – cultural, philanthropic and environmental. She thus continues to explore the diverse applications art has towards strengthening personal and professional fruitful collaborations.
Emma Fsadni (b.1996) is a visual creative based in Malta. Rooting from a certain feeling, observation or conflict that would be surfacing in time, her current work is shifting towards the use of formal elements as a means of visual exploration and narrative. Emma gravitates towards two-dimensional media, namely illustration, printing, and painting. She finds that such mediums allow a level of sensitivity to be maintained in execution. Emma received her B.A. Honours in Fine Arts from the MCAST Institute for Creative Arts in 2018 and has since taken part in a number of local collective exhibitions.
Sarah Portelli(b. 1997) has always been interested in the arts, with a particular interest in unusual materials. Her art involves experimentation with textiles and found objects. In 2019 she graduated from the University of Malta with a B.A. (Hons) in History of Art and Fine Arts. After graduation. Following her studies she spent a year working on a number of projects focusing on fashion and film. Portelli is currently pursuing a degree in Atelier Design at the Polimoda in Florence, Italy.
Unwoven, curated by Elyse Tonna, presents the underlying narratives suggested through the work of these artists which are bound by the presence of incompleteness, experimentation and fragility. The artists present various facets of disparate and ever changing situations such as development, psychological insecurities and representation of women. Taking on a playful approach, each interprets these vast, frangible issues through unwoven fabric, sound, pattern making and painting.