Supporting artists/collectives by exhibiting at The Mill has been a core principle of the Foundation but also of Gabriel and Mary Rose Caruana, the founders of The Mill – Art, Culture and Crafts Centre. The Foundation strives to support emerging artists/collectives in various ways through curation, project development, funding and sponsor support, sales of artworks and internationalisation. Since 2017, the Gabriel Caruana Foundation has supported emerging artists by dedicating its exhibition space for  solo exhibitions at The Mill. The process is varied but generally goes beyond simply supporting the set-up of an artistic showcase.  This support has organically grown into SPRING, a programme that conceptually ties in with the notion of creating a platform for the promotion of work by emerging artists/collectives. This enables them to kickstart or further expose their work and artistic career giving them the space to investigate and intervene. The Foundation has so far supported Maxine Attard, Enrique Tabone and Charlene Galea. The SPRING programme is evolving to support emerging artists/collectives through different modalities.  The SPRING programme is now two-pronged. We offer a yearly month-long solo exhibition to an emerging artist/artist collective during the Spring season. We are also offering a dedicated exhibition space for emerging artists/artist collectives throughout the year.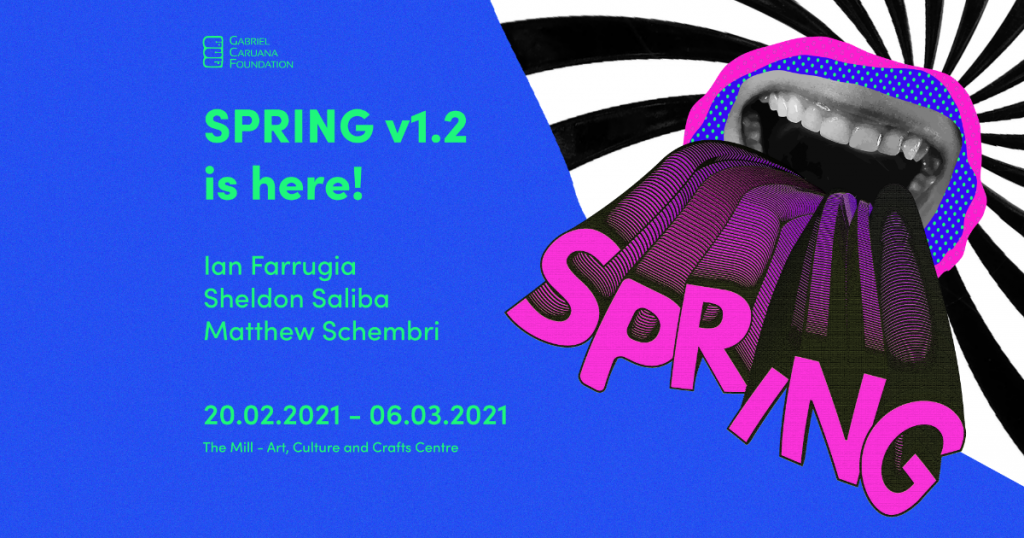 Our first open call (December 2020) has garnered an overwhelming number of submissions. Through a selection panel composed of seasoned artists, curators and art educators, 12 artists have been selected to for part of SPRING. Their work will be featured between January 2021 and April 2021. The next artists showing their works at The Mill are Ian Farrugia, Sheldon Saliba and Matthew Schembri. They will exhibit their works during SPRING v1.1, which will launch on the 20th February 2021 at The Mill.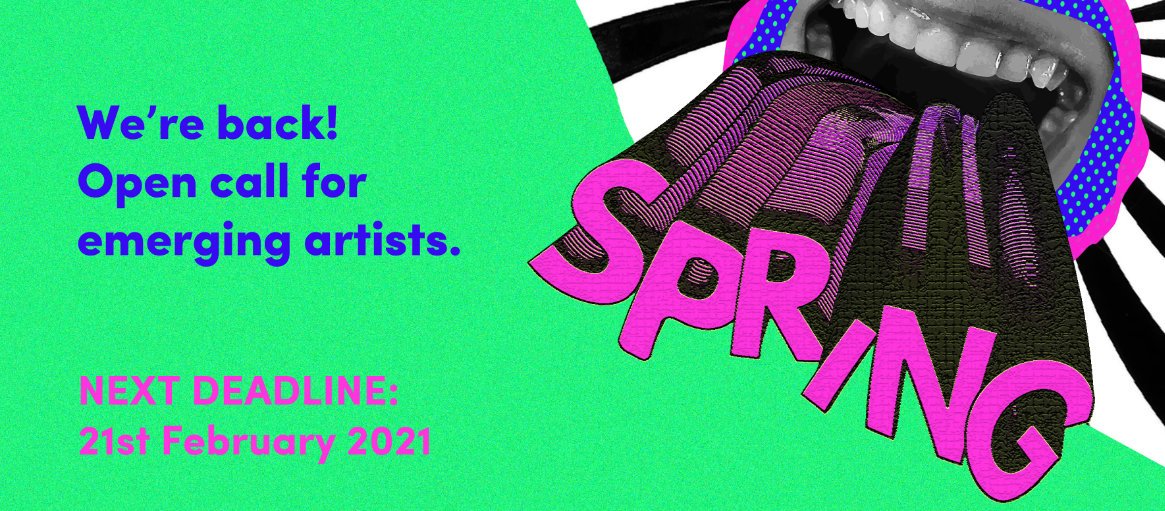 OPEN CALL – SECOND CALL [EXTENDED DEADLINE]
WHAT'S ALL THIS?
The Gabriel Caruana Foundation is issuing its second call for emerging contemporary artists/artist collectives from/based in Malta to submit their interest in showing their work at The Mill as part of our SPRING programme. The Foundation will dedicate a space at The Mill and on our online platforms for a two/three-week period to the selected artist/artist collectives. 
WHAT ARE WE LOOKING FOR?
Are you an emerging contemporary artist or artist collective (less than three solo exhibitions?) Are you working on something experimental, or in the contemporary idiom that you wish to show at our art centre? Between June and September 2021, we are dedicating wall space which will feature the work of emerging contemporary artist/s or group/collective on a monthly basis. These can make it to the SPRING zone for approximately two to three weeks in 2021!
This is an open call for emerging contemporary artists or artist groups/collectives to submit their work. We want to ensure that the work forming part of SPRING is in line with our ethos, aims and artistic vision. 
Media
We are willing to engage with emerging contemporary artists with various artistic backgrounds and interests including, but not limited to, film and video work, photography, painting, sculpture, installation art, literature, digital art, sound, new media art and performance-based work such as theatre and fashion.
WHAT SHOULD YOU SUBMIT?
We will be selecting up to three emerging artists or artist collectives/groups per month from/based in Malta to feature at The Mill, on our website and social media. To participate in this competitive open rolling call please submit the following by the 21st of February (second deadline) to projects@gabrielcaruanafoundation.org subject: SPRING CALL: 
Motivation letter (not more than 1 page) telling us why do you want to be part of this and any particular concept you are currently investigating.

100 word bio (keep it short, direct and real).

CV (don't worry if it is short).

Selected works from your portfolio, or even snippets of your work if you do not have one yet! (show us what your work is about).

Describe any hidden talents you might have and how you are willing to contribute in running an artist-run space, not more than 500 words (check Voluntary work section below for more details!).
HOW WILL YOU BE SUPPORTED?
Space allocated and duration of exhibition 
The Gabriel Caruana Foundation will be providing the selected artists with a space measuring approximately 1.8 meters by 2.4 meters (lenght x height)  at The Mill free of charge for a maximum of two to three weeks during 2021.
Team support
The artist or artist group/collective will have one or two on site and online meetings with the Curator and Programme Manager of the Gabriel Caruana Foundation at The Mill.
The team, GCF staff and volunteers, will help in the setting up and dismantling of the exhibition. Subject to prior discussions, the Foundation will make available any equipment or tools at its discretion to facilitate the setting up/dismantling and showcasing of the work during the exhibition period. 
Marketing 
The work will be featured on our website for a 2/3-week period. 
The exhibition will form part of our artistic programme and included on our website and Facebook events. 
2 to 3 social media posts will be dedicated to the selected artist. 
A press release and GCF Bulletin will feature the selected artist or artist group/collective and the work.
Appropriate media coverage which may include online, printed and TV. 
Sales
Depending on the nature of work exhibited, it will be made available for sale through the Gabriel Caruana Foundation. Proceeds from any sale made shall go towards the artist/collective and the Foundation, the latter for fundraising purposes. 
The works will be made available for sale for a period of one year, exclusively from the Gabriel Caruana Foundation. Terms and conditions apply and will be subject to an agreement between the artist and the Foundation.
The final work/s exhibited at The Mill will form part of an annual postcard collection sold by the GCF for fundraising purposes, sales of such postcards go towards the Foundation to further its objectives.
WHAT CAN YOU GIVE BACK IN RETURN?
In the spirit of artist-run centres and to further the philosophy of exchange we are asking each selected artist or artist group/collective to be part of the Foundation by giving back some of your time and talents. As a non-profit we run on the passion and dedication of the team and volunteers. We are asking for 20 hours of your time (within six months from the closing of the exhibition). You can be involved in the different aspects related to the running of The Mill and the Foundation. From giving workshops, greeting guests, assisting in setting up other exhibitions, proofreading, designing of artwork, documenting exhibitions and archives – there's always something interesting to do! Let us know how you are willing to contribute!
DEADLINE [EXTENDED]
This is an open call on a rolling basis, the second deadline for submissions is 21st 28th February 2021, 23:59hrs. Notification of the 2nd round of results (June to September 2021) will be sent by end of March 2021. A selection committee will discuss and select all submissions received. 
Send in your application to projects@gabrielcaruanafoundation.org with subject line SPRING CALL. Email attachments should not exceed 15MB. Wetransfer file submissions are accepted.
QUESTIONS?
Feel free to get in touch by sending us an email on projects@gabrielcaruanafoundation.org.