Our SPRING Artistic Programme for Emerging Artists is in its third iteration! 2022 has been a period of reflection as well as a moment to hone our skills. The selected artist for the 2022 – 2024 SPRING Artistic Programme have been on a journey with us to develop their skills, discuss their work, learn about each other and forming a strong community of artists. Moreover our Artistic Programme has also been awarded funding by Arts Council Malta through its Programme Support Fund (2022 – 2024). Read more for more information about past and current programmes.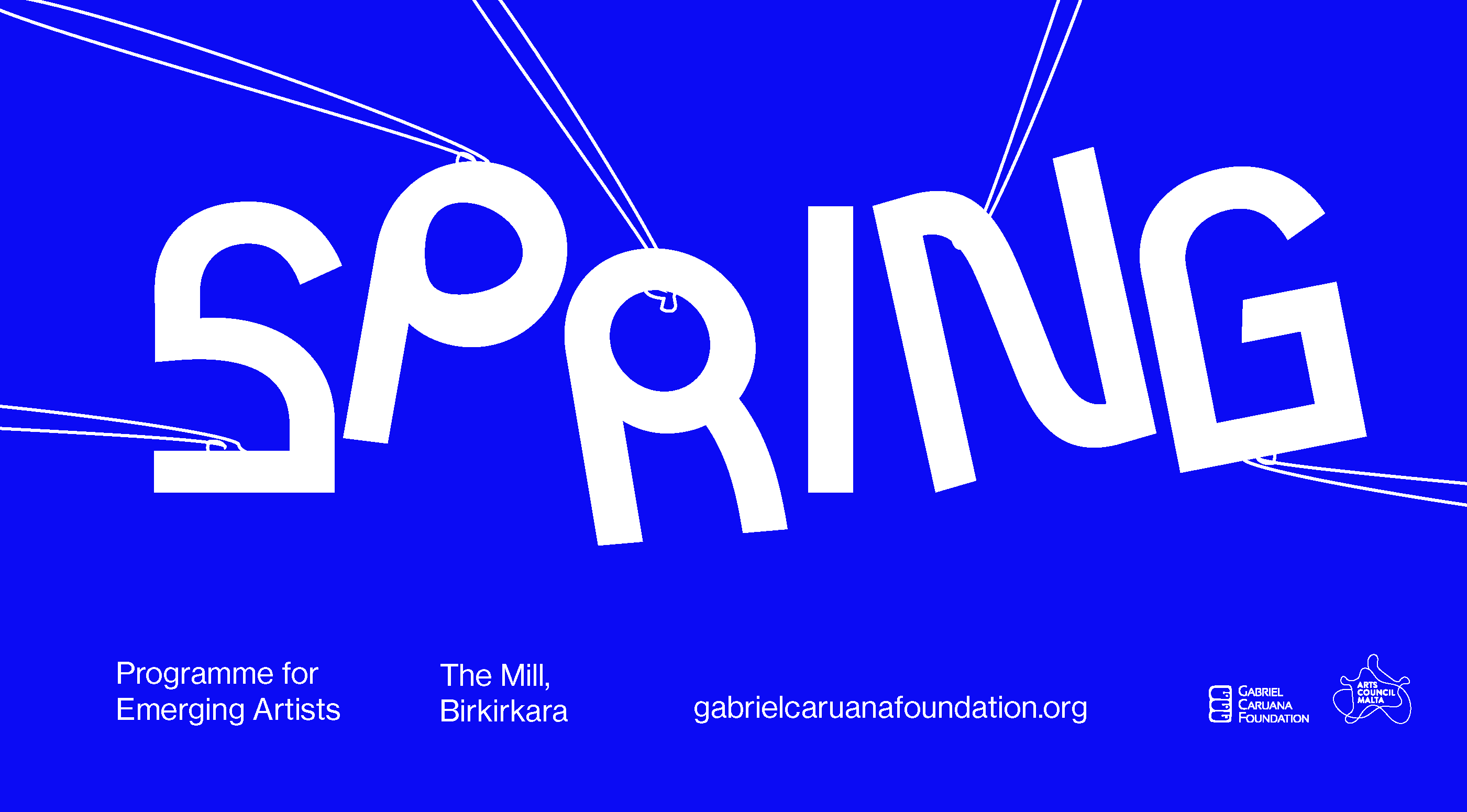 How did it start?
Supporting artists by exhibiting at The Mill has been a core principle of the Foundation but also of Gabriel and Mary Rose Caruana, the founders of The Mill – Art, Culture and Crafts Centre. Since 2017 the Foundation has supported emerging artists and collectives in various ways through curation, project development, funding and sponsor support, sales of artworks and internationalisation, a varied process that goes beyond the set-up of an artistic showcase. 
This support has organically grown into SPRING, a programme that conceptually ties in with the notion of creating a platform for the promotion of work by emerging artists/collectives. The SPRING programme is evolving to support emerging artists/collectives through different modalities.  We offer an annual solo exhibition to an emerging artist/artist collective and the development of collective exhibitions throughout the year.  This enables our artists to kickstart or further expose their work and artistic career giving them the space to investigate and intervene.
Who have we supported?
The Foundation has so far supported Maxine Attard, Enrique Tabone, Charlene Galea, and Daniel Borg in exhibiting their work through a solo exhibition at The Mill. The Foundation has also supported Noura Abdelhafidh, Stephania Micallef, Stefan Spiteri, Ian Farrugia, Sheldon Saliba, Matthew Schembri, Martina Camilleri, Emma Fsadni, Sarah Portelli, Abigail Agius, Martina Spiteri, Rhea Micallef Gavin, Jamie Barbara, Samuel Ciantar, Noah Fabri, Katel Delia, Kamy Aquilina, Michela Grech, Jade Zammit and Kim Sammut  by codeveloping collective exhibitions at The Mill. The SPRING Artistic Programme is managed by Raffaella Zammit and curated by Elyse Tonna, both providing their experience to nurture emerging artists.
What's new?
Over time certain gaps were starting to emerge within the emerging artists' process. Thus, the Foundation introduced a programme titled toolbox+, an offshoot of the SPRING Programme. toolbox+ introduced a series of workshops that would arm artists with practical skills needed to successfully execute an exhibition including; writing rationales, wording biographies, managing a project, understanding budgets and more. 
Following a period of reflection in 2022, the Gabriel Caruana Foundation had renewed the SPRING Programme and we also applied for support from Arts Council Malta. Following an evaluation by a board of artists and art educators, a dynamic and eclectic cohort of emerging artists have been selected showing promise, quality, experimentation and potential. The selected SPRING artists, Isaac Warrignton, Sarah Chircop, Giola Cassar and Aprille Zammit, Mono2Mass, Claire Farrugia, Rachelle Deguara, Sephora Schembri, Sheldon Saliba, Samuel Ciantar and Florinda Camilleri, will feature in four major exhibitions at The Mill between 2023 and 2024. 
We've also introduced three processes in SPRING, the Creative Process being led by Elyse Tonna, the Artistic Programme led by Raffaella Zammit and Outreach and Engagement being led by Martina Camilleri. We are are working with Sean Borg as our Campaigns Manager, Karl Tonna as our Designer and Elisa Von Brockdorff as our Photographer. We have four upcoming exhibitions scheduled for the SPRING 2022 – 2024, the first one will be the solo exhibition by Florinda Camilleri.